| | |
| --- | --- |
| Posted by On Q Piano on December 1, 2014 at 10:45 AM | |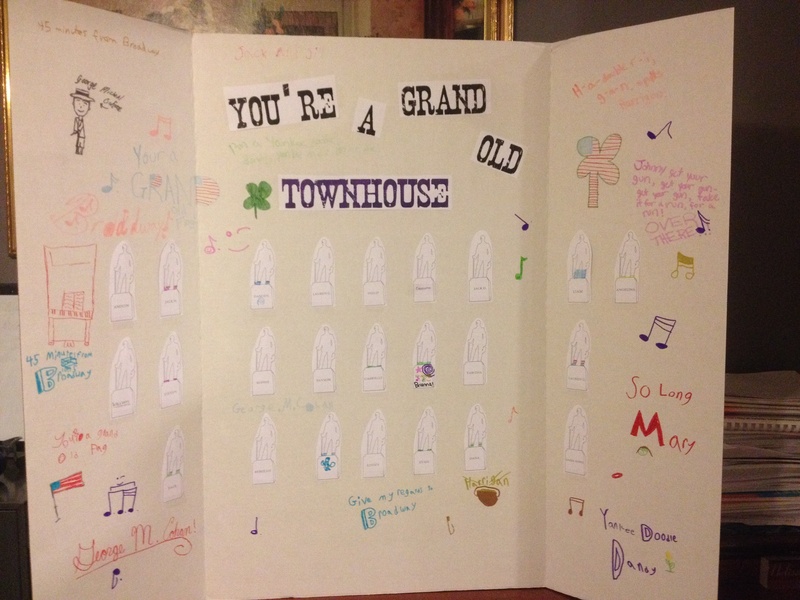 I've always been a believer in giving back to the community - trying to use our talents and God-given gifts to help others.  Maybe that's why this year, I'm more excited about our contest than any previous to this!  You may have guessed by my previous post that our contest this year is based on George M. Cohan.  We are raising money all year long to help with the repairs for the historic North Brookfield townhouse.  The picture above shows how some of the kids are using these mini-Cohans to track their funds raised. 

Cohan and his family would put on a show at the end of each summer for North Brookfield residents.  The townhouse was deemed to be structurally unsafe in 2002.  In May 2014, a beautiful new bell tower built by Jeff Samuelson was raised to replace the old one (which was damaged by Hurricane Irene).  Still, the building sits there unused with many repairs needed.
Each month, my students learn a new song written by Cohan and arranged for their ability.  When they play their song for adults present, the adults are asked to donate to the student's fundraising bank.  Since I'm also a parent of 3 students, I chose $0.25/time.  November's song was Give My Regards to Broadway.  Here is the extra sheet the students received with info on Cohan and the song: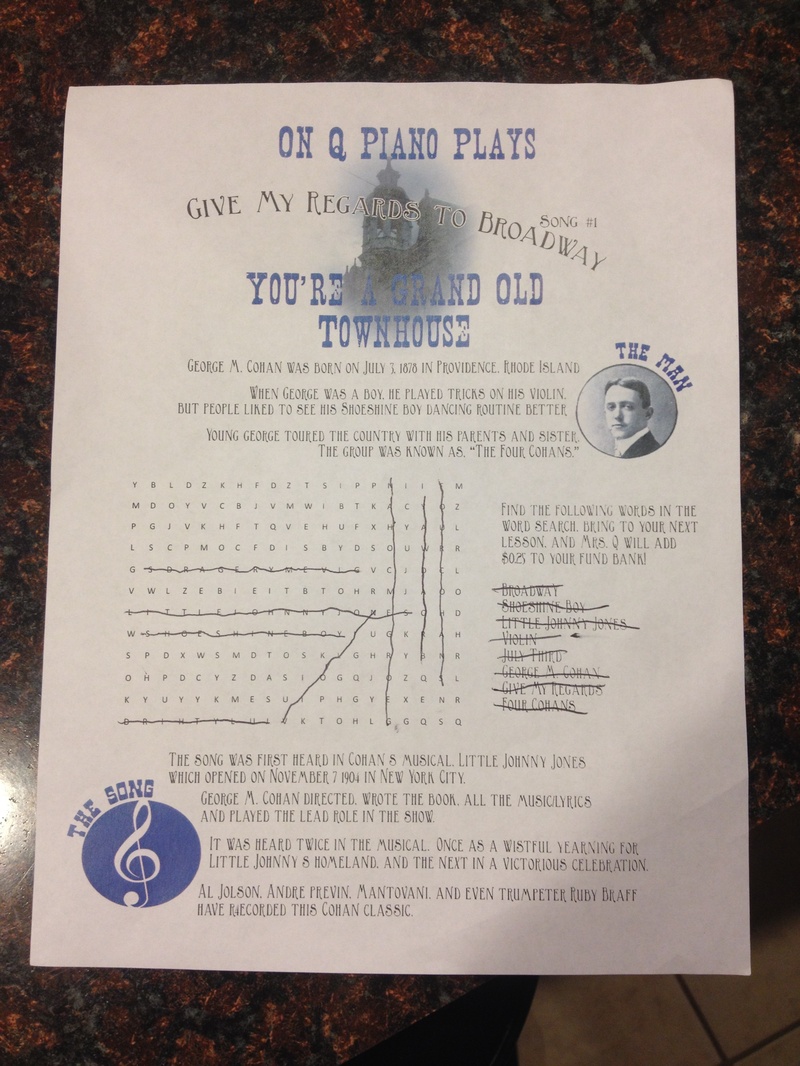 If they brought this completed word search back in November, I added an additional $0.25 to their fundraising bank. They'll get one of these each month based on the song of the month.

It's December, so that means the kids are all learning Harrigan (shown below).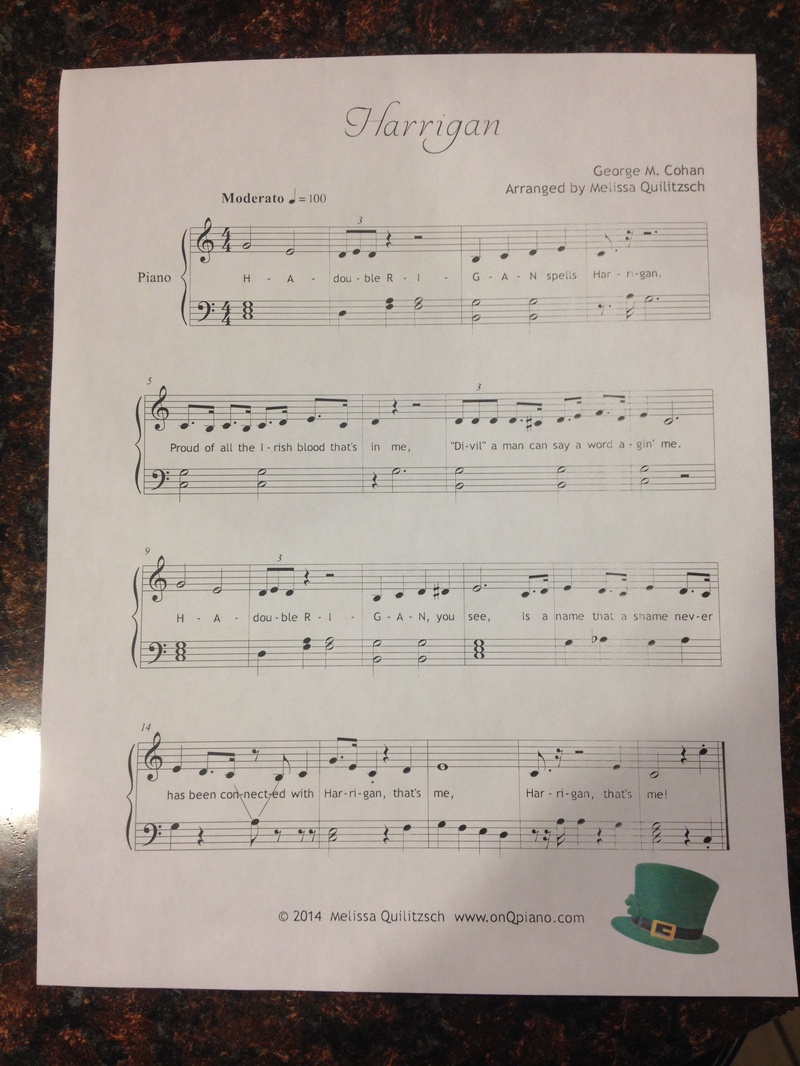 I had the opportunity to speak with Jennifer Robert of the Quaboag Current last week and she did a great article about our contest/fundraiser.  If anyone has any extras of the November 28 edition, I'd love to have them!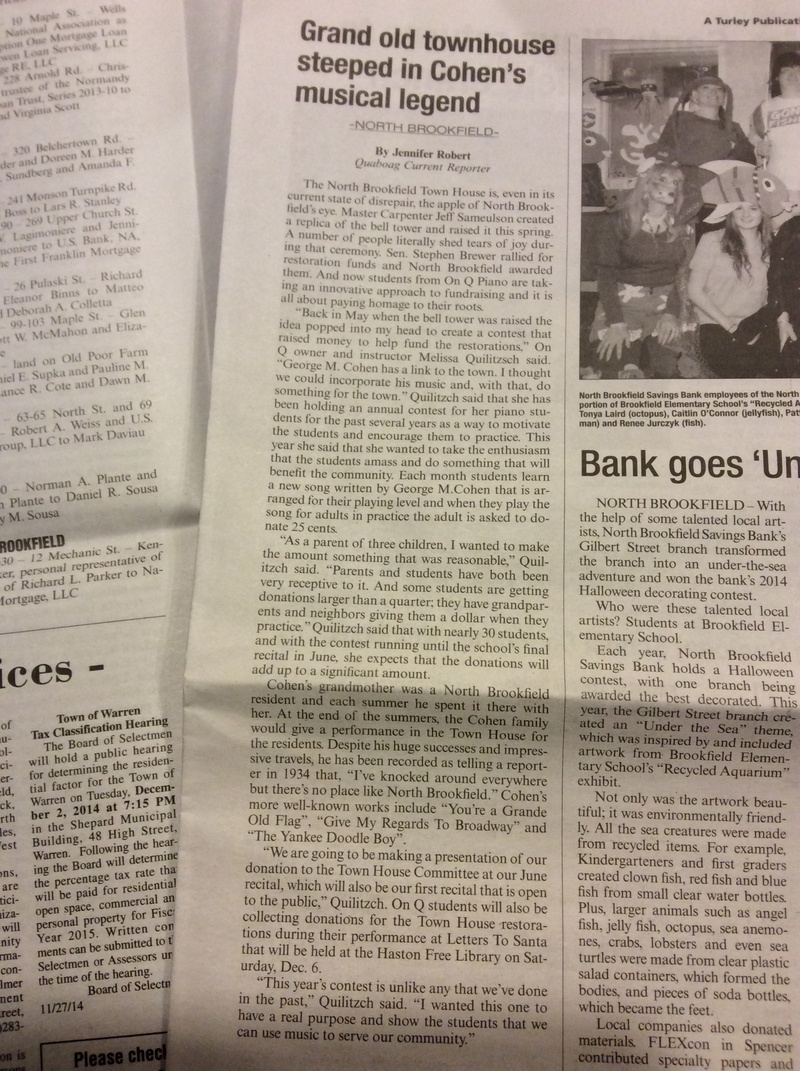 I am so proud of all the kids as they've been working SO hard at earning money for the townhouse!  So far, they've raised over $100 (I know it's a small amount compared to what is needed but it's better than nothing)!  They have gotten neighbors, friends, family, even teachers and principals to donate to their funds!  The students who raise the most will get some serious recognition at our recital.  I'm also trying to arrange for a member of the Friends of the Townhouse to be at our recital so the kids can present the total amount to them. 

This Saturday (December 6 from 4 - 5:30) is the Letters to Santa event.  It will be our 3rd year playing at the library for this.  We have permission from the library director to get donations for the townhouse from the public.  What you get in return is listening to some awesome kids play their Cohan and Christmas music plus helping the town.  Since each student has a goal to raise as much as they can by our June recital, the funds donated will be split amongst the students that came to play on Saturday for Letters to Santa to boost their fundraising totals. 
So be sure to stop by, say hello, and support the fundraiser that these kids are so excited about!
Extra special thanks to Brandon Avery (president of the North Brookfield Historical Society), Anne Kidd (director of the library) and of course the phenomenal families of the kids that I teach!

Categories: Piano lessons, Piano