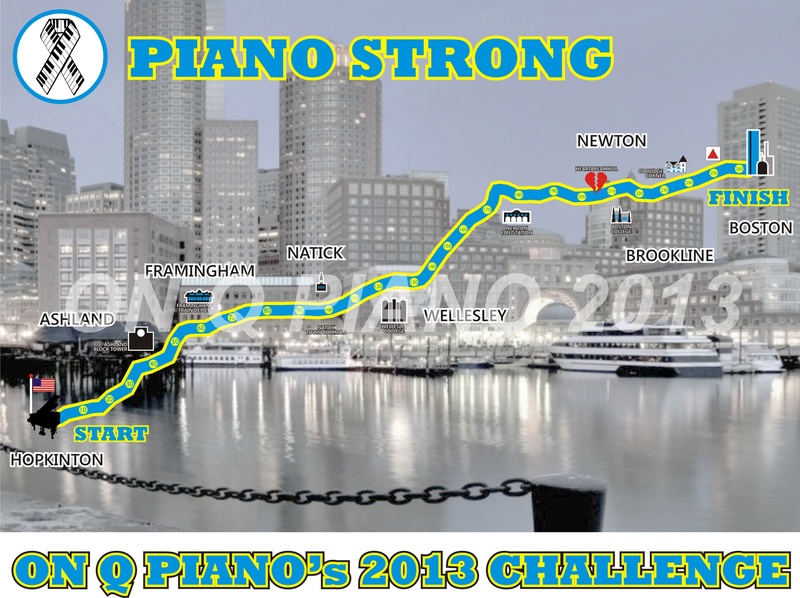 Mr. Q is the best!  Thanks to his amazing graphic skills and creativity we are able to do this incentive program for the piano students this year, based around the Boston marathon.

Each student has weekly goals that earn them 5 points on the Piano Strong route.  They must complete all 3 goals in order to earn the 5 points.  These goals are:
Sight reading (level appropriate)
Technique (with correct fingering)
Theory



The following are monthly goals that are only available until certain dates.  These require more effort but the reward is greater.  These will give you 30 points:
Goal 1 (expires November 22): Research Alice Herz-Sommer. Make a birthday card OR letter AND write a paragraph about something interesting you learned about her.  Cards and letters will be sent to her home in London; paragraph will be given to me.
Goal 2 (expires December 7): Perform at least 5 Christmas songs at the North Brookfield library on December 7.
Goal 3 (expires January 31):  Earn a perfect score on the NoteWorks app on the iPad. Study your note names!  You can have multiple tries until you get the perfect score.
Goal 4 (expires February 28 ):  Memorize 5 songs. ONLY pieces learned since September 2013 can be used toward this goal.
Goal 5 (expires March 31):  Post a video of you playing a favorite piece on your piano, to the On Q Piano facebook page, located at www.facebook.com/onQpiano 
Goal 6 (expires April 30):  Create your own unique variation of Row, Row, Row Your Boat. 
Goal 7 (expires May 31):  Compose an 8 measure song. Must include both treble and bass clef parts to count for this goal. 



What happens if you're unable to complete all the monthly goals but you're still determined to finish strong?  Since you're running a marathon you can earn cups of water along the way. Go above and beyond and you could be given a cup of water. For example, if you selected a piece of music in your level, sight read it, practiced it all week to perfect the rhythm, articulation and dynamics that would be worthy of a cup of water as you did this all on your own.  Five cups can be redeemed for 30 points! 
This year's challenge includes all levels and ages. Prizes will be awarded at the recital if you prove that you are PIANO STRONG!